The Magenta Wanker
I purchased my first BMW 2002 in December of 2002. It was a 1976 and was well used by the former owner, who is now a good friend of mine. I drove it for a year, learned the basic mechanics and fixed what I could while living in an apartment with a gravel parking lot and a steep hill for street side parking.
Eventually the car, WANK3R as we called him, slowly began eating up a piston ring and fouling spark plugs. I retired him to the easy life of a parts car and now he rests in pieces in my garage and has donated several organs to save the lives of other 02s.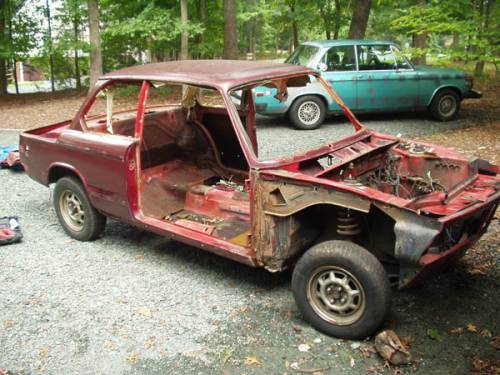 _____________________________________________________________________________
Uber 02
Uber was the second 2002 I came to own. After it was discovered that WANK3R was on his final stretch of road I found a '74 Verona 2002 up in Pittsburgh. He had many upgrades including a 292 cam, 40/40 downdraft Weber carb, ANSA exhaust, racing seats, shortened and painted bumpers and an E24 635csi rear seat conversion. He ran like a top and his shiny coat gleamed like a thoroughbred.
Over the years he has shuttled us to countless rallies, autoXes and car shows and has been dead reliable (apart from one instance with an under-torqued spark plug…that was my fault). Along the way I upgraded the brakes, removed the rear seat entirely and installed some handsome Flo-fit front seats. But Uber is an 02 and the little bits of rust in the rockers and rear wheel arches eventually had to be repaired.
Thus we enter the rebirth of Uber. I spent a solid month and a half repairing, patching and upgrading Uber's outer appearance. On the menu were:
–a replacement fender to relieve the rotted one on his passenger side.
–removal of the enormous and heavy aluminum bumpers & converting to the earlier chrome versions.
–patching of the rocker panels.
–dissection of the rear arches and installation of fiberglass 2002 Turbo-style fender flares.
–some new shoes to fit under the flares.
The results are a happier and even more handsome Uber:
before: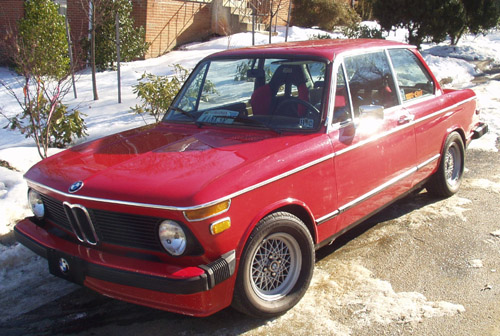 after: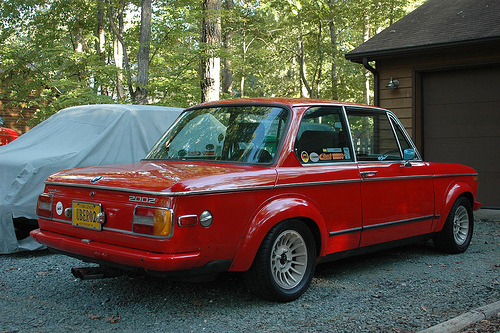 _____________________________________________________________________________
The Turkis ti(-i)
Late in 2004, a couple months after securing a new house with a garage, I stumbled across a neglected '74 2002tii a couple hours away in Chesapeake, VA. It had been left in the care of a BMW mechanic who had replaced and rebuilt a few items on the car but had left the turquoise metallic and primer paint scheme untouched. Unfortunately the Kugelfisher mechanical fuel injection system, the second "i" in tii, was long gone in favor of the old standby Weber 32/36 carb (hence the ti(-i) above). Yearning for a beater car to replace the disassembled WANK3R I drove The Turkis home.
We piloted Turkis to work and all around town as a daily driver for about a year and change with little more than a set of rear brake cylinders and a clutch slave cylinder requiring attention. I decided to replace the ailing suspension with a fresh set of Bilstein Heavy Duties and thus began the "while yer in there" saga. While I had the suspension apart I figured "why not a new set of urethane bushings?" Then I noticed a bit of rot in the floor boards. Then a bit of bondo in the rear quarters…and so it goes.
Now Turkis is my full on project car. A new carpet set has been installed following the floorboard repairs. Rear quarter panel reparations are almost finished and then it's on to a fresh coat of turkis paint. More to come…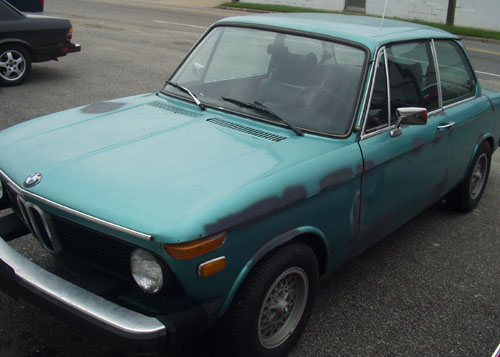 _____________________________________________________________________________
The Gray Ghost
UPDATE: The Gray Ghost has been passed on to a good friend of mine. But, I will post updates of his progress as he makes his way through it!
A project waiting patiently. I picked this car up from a buddy here in town. He had once called it the Gray Ghost and the name stuck. It is an early 1968 2002 that has been modified at some point in its life. A small list of goodies includes:
–BWA 13×8″ wheels
–BWA steering wheel
–heavy springs and solid bushings
–Alpina style pig-cheek flares
–Vintage racing seat